Free LUMISmile Digital Smile Makeover by LUMINEERS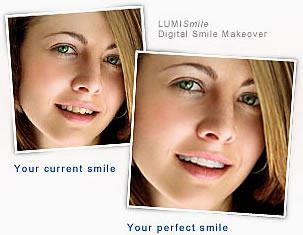 Using LUMISmile, your LUMINEERS dentist will show you an eye-opening before-and-after comparison of how incredible your smile can be with LUMINEERS. It's free, takes only 30 minutes, and you see your results in the same visit.
The dentist takes a digital photo of your current smile.
A professional LUMISmile artist digitally applies LUMINEERS to your teeth.
Before you leave the dentists' office, you receive an image portfolio with your new, perfect LUMINEERS smile.
LUMISmile is only available from a LUMINEERS dentist, so call 888-437-7179 to find a LUMINEERS dentist.
---